Reprinted from March 1991 issue of Mustang Monthly.
Imagine the excitement of buying the car of your dreams from the man who built it. Add to that a several thousand mile journey with that builder, during which you discover a chapter in automotive history which few people knew existed. It happened to Steve Ooley and the builder was not Carroll Shelby.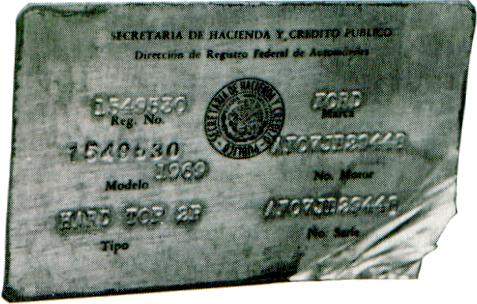 A native of Indianapolis, Ooley has been a Shelby aficionado since the '60s. He remembers ogling the cars in local Ford dealerships while still cruising beaters up and down Keystone Avenue. He bought his first Shelby a GT-500, in 1976, and other Shelbys eventually were added to the collection. A year ago, Ooley decided to look for an early '66 GT-350, and placed an ad in a hobby magazine, hoping to locate the car. Soon after the ad ran Ooley received a phone call from a man with a Spanish accent. Eduardo Velazquez had called from Mexico with a '69 Shelby for sale.
Velazquez identified himself as Carroll Shelby's partner in Shelby de Mexico. He had decided to sell his wife's
 car which had been in the family since he built it in l969. Ooley who thought he knew «most of what there is to know about Shelbys,» had never heard about Shelbys being built in Mexico. But his curiosity was piqued and he began some digging. He soon learned that Velazquez was a parts distributor in the days when Mexico had stringent rules regarding imports.To sell a car in Mexico, a manufacturer had to build it there. Velazquez had worked with Volkswagen in Mexico, a collaboration which resulted in Mexico's first dune buggies. Several American manufacturers, including Ford, had also set up plants and when the Shelby was introduced in the U.S., Velazquez saw the opportunity for a high performance collaboration. He contacted Carroll Shelby and, in 1965, fielded a small but successful racing team in Mexico. By 1966 Velazquez Had become a Cobra parts dealer and in 1967 Shelby de Mexico was up and running.
Several hundred Mexican Shelbys were produced between 1967 and 1971, though few remain today. Recently to preserve those surviving rare and historically significant GT's, Velazquez decided to locate any remaining Mexican Shelbys and attempt to get them into the hands of people who would appreciate and care for them. As part of his plan he decided to sell his wife's car to an American collector. What better place could there be to relocate pride and joy than in the racing capitol of the US., in the hands of a life-long Shelby enthusiast?
Ooley jumped at the opportunity to purchase Velazquez's GT-350, arranged for payment through Carroll Shelby's California office, then flew to Mexico City where he was greeted by Velazquez and a very unusual Shelby. Because the Ford plant in Mexico did not produce fastbacks, Shelby de Mexico worked only from hardtops. They created fastbacks by adding twin extensions to the stock hardtop roof and covering the top with vinyl. The car's interior was a coarse, black vinyl; the speedometer read in kilometers; and the decals, and battery and tire inflation instructions read in Spanish. The center headlights were Mexican aircraft landing lights, and the fiberglass front bumper was painted to match the car. Under the hood sat a 302 high-performance engine, built in Mexico. It was paired up with a Dana 60 rearend, the only unit Velazquez could locate in Mexico which could handle the engine's horsepower.
Some of the car's components closely resembled American counterparts of varying vintages. It sported Tri-Y headers, side exhausts, and lowered A-arms in the front The intake manifold and carburetor were similar to early Shelby bolt-on modifications and the Shelbys' exterior colors were essentially the same as the American options, with subtle differences in the shades. Because Velazquez had built this particular car for his wife, he had added options not found on the standard Shelby de Mexico cars. They included a heater, power steering, power brakes, and a C-4 automatic transmission.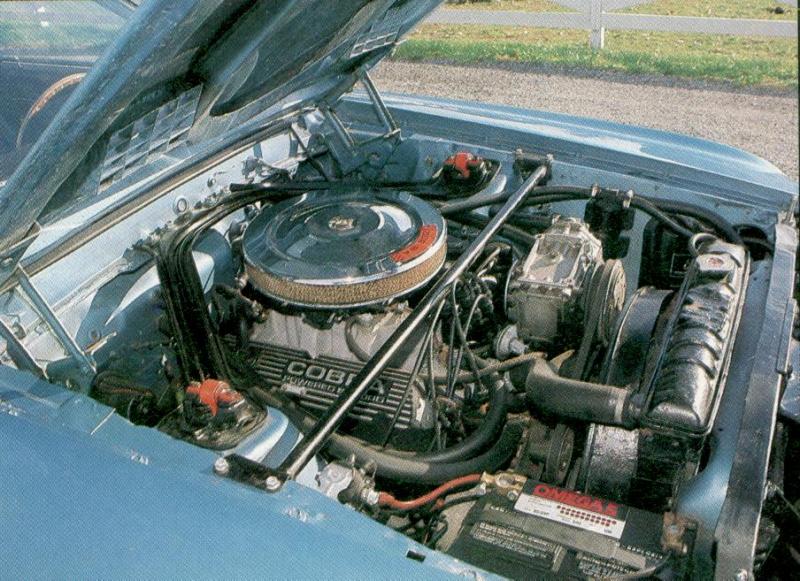 Velazquez had been invited to be a guest speaker at the Indiana Regional Shelby club's «Spring Fling» so he accompanied Ooley on the several thousand mile journey back to Indianapolis. Eduardo careened northward through Mexico at 200-plus kilometers per hour and Ooley took the wheel at the border. Their first stop was in Waco, Texas, where Velazquez planned to look up a friend. The pair pulled into a La Quinta parking lot as it began to drizzle. Soon after that the light rain generated a flash flood and within minutes a number of vehicles were floating in the parking lot. Fortunately the Shelby had been parked on a rise. While the water got as high as the car's interior, the car sustained no mechanical damage. Only a quick examination and fluid change were necessary before Ooley and Velazquez got back on the road.
The rest of the trip went smoothly. The miles flew past, filled by Velazquez's recollections of his adventures
with Carroll Shelby. Tales of friendship, ingenuity and a unique chapter in Ford history accompanied Steve Ooley's purchase. In this car a seller had found the right buyer and a buyer had found a great deal. The phone call from Eduardo created its own history as well.
(A parte de esta publicación de Mustang Monthly en 1991, pudimos saber un poco más de este carro. Click aquí