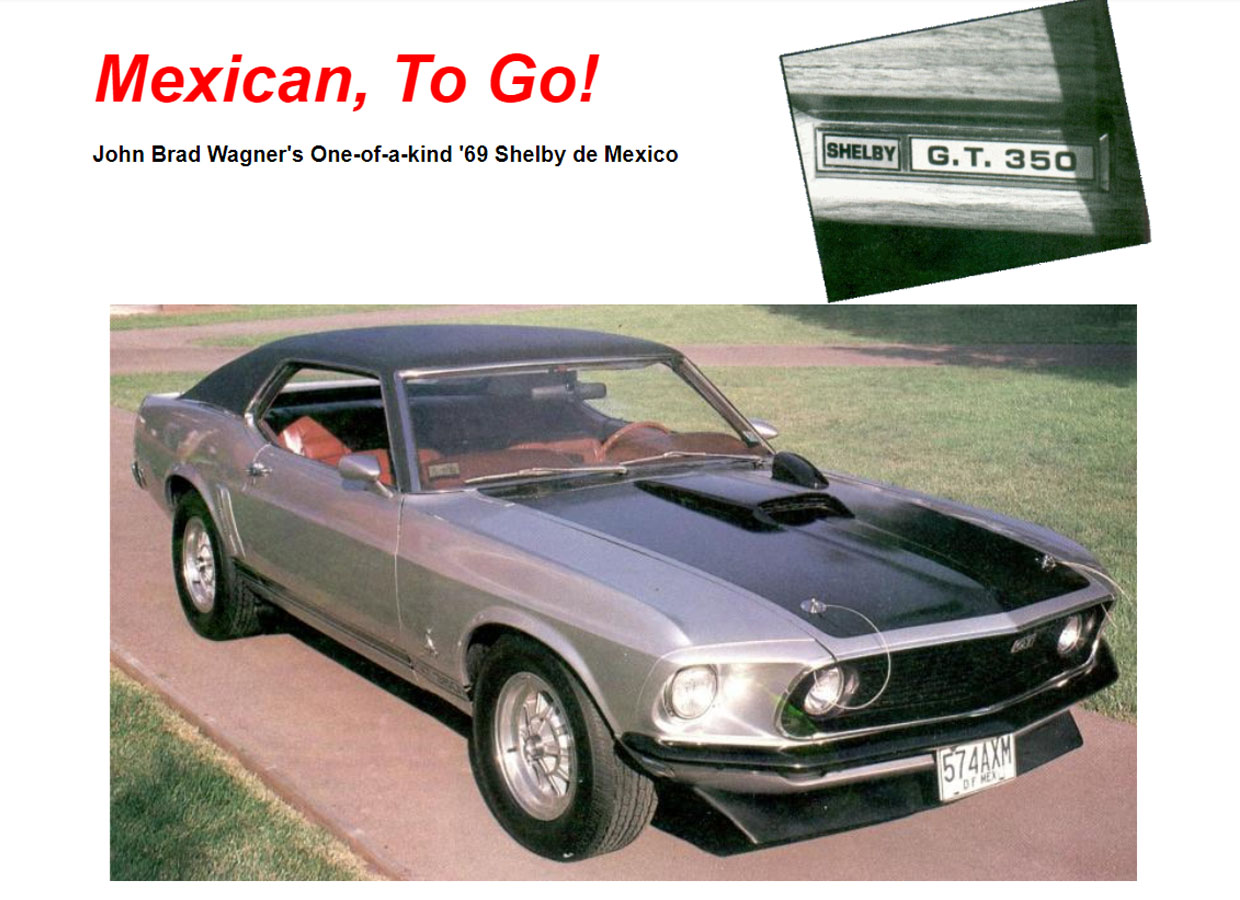 Article and photographs by Tom Corcoran. Reprinted from the January 1990 issue of Mustang Monthly.
In 1965 an auto parts distributor in Mexico named Eduardo Velazquez applied for the rights to distribute Shelby American performance parts south of the border. Within a year Velazquez had become Shelby American's largest single Cobra parts distributor, and remained so throughout the years 1966 through 1969. Through business dealings between Shelby American and Shelby de Mexico, and a growing (and lasting) personal friendship, Carroll Shelby and Eduardo Velazquez worked closely on a number of significant projects.
Ford's Mexican operation, Ford Motor Company, S.A., produced only Mustang hardtops in that country and, beginning in 1967, they became the basis for a series of Shelby de Mexico race-prepared and street driven GTs. The street cars were sold only through Mexican Ford dealers. The Shelby de Mexico GT-350 hardtop was created by adding Koni shocks, stiffer springs, sintered metallic brake linings, aluminum ten-spoke wheels with performance tires, exhaust headers, '65 Thunderbird taillights, the Shelby fiberglass hard and nosepiece, fiberglass trunk lid with spoiler, and GT-350 rocker panel stripes. The 289 cubic inch engines in the '67 and '68 models received aluminum high-rise intake manifolds with a Holley carburetor and Cobra aluminum air cleaner. Tachometers, Shelby steering wheels, and GT-350 emblems graced the interiors.
In 1967 there were 169 cars produced; in '68 Shelby de Mexico created 203. In '69 they shifted from using 289 engines, and turned out 306 units powered by 302s. The '69 models were unique in that a fiberglass section was designed to extend the roofline rearward to approximate the appearance of a fastback. The vinyl-covered roof created a silhouette unlike any other Mustang. The front view of the '69 Mexican GT-350s was pure Mustang GT, with a fiberglass front bumper and an exterior tachometer added to the blacked-out hood. But the rear taillights, taillight panel, deck, and spoiler pieces were '69 Shelby units.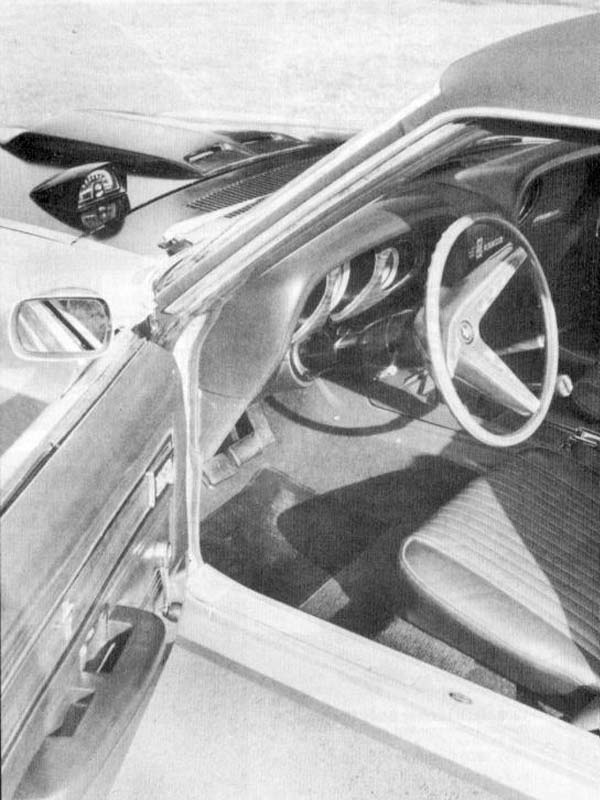 As with Ford Motor Company and Shelby Automotive, the production line at Shelby de Mexico knew exceptions to the rules. Exterior colors supposedly were limited to red, black, white, gold, green, and blue. Interiors were black or white. This silver 11,000-mile '69 Shelby GT-350 hardtop, which belongs to John Brad Wagner of Alamo, California, has a red interior and does not have a 302 cubic-inch engine. Instead, it is powered by a special «Trans Am Series» 289 engine which still sports Valley Head Service racing heads bearing SCCA homologation numbers found on original R-models. It runs a four-speed transmission and Uniroyal of Mexico radial tines. According to an article Eduardo Velazquez authored in The Shelby American (#54), the '69 model was his favorite. This one (#AF07JP26606) was one of three '69 GT-350s he personally owned.
Other unique equipment on this GT-350 are the aircraft style driving lights, the oil cooler mounted ahead of the radiator (with the filter high on the driver's side inner fender), and the kilometer gauge speedometer. It his no power equipment nor heater. Because the Mexican government required at least 80 percent of a Mexican-built car's components to be manufactured in Mexico, the Mexican Deluxe interior has uniquely grained headliner, pebbly grain vinyl seats, different carpet and door panels, and low-back Deluxe seats, while the dash pad is correct for a domestic '69 Mustang. The tire pressure sticker in the glove box is printed in Spanish, as are all other stickers and tags on the automobile. The windshield and rear glass are Chinmex; the side glass is Carlite. Rather than being a 9-inch Ford unit, the rear end is a Dana 60 locker made in Mexico.
With the assistance of restorer Scott McNair and friend Ray Holdsworth, who met Sr. Velazquez at SAAC-13 in California, arrangements were made for the GT-350 to be driven to Texas, then delivered to northern California where the purchase was finalized. This Mustang's pedigree is doubly unique: it is truly Mexican, and it is truly a Shelby.