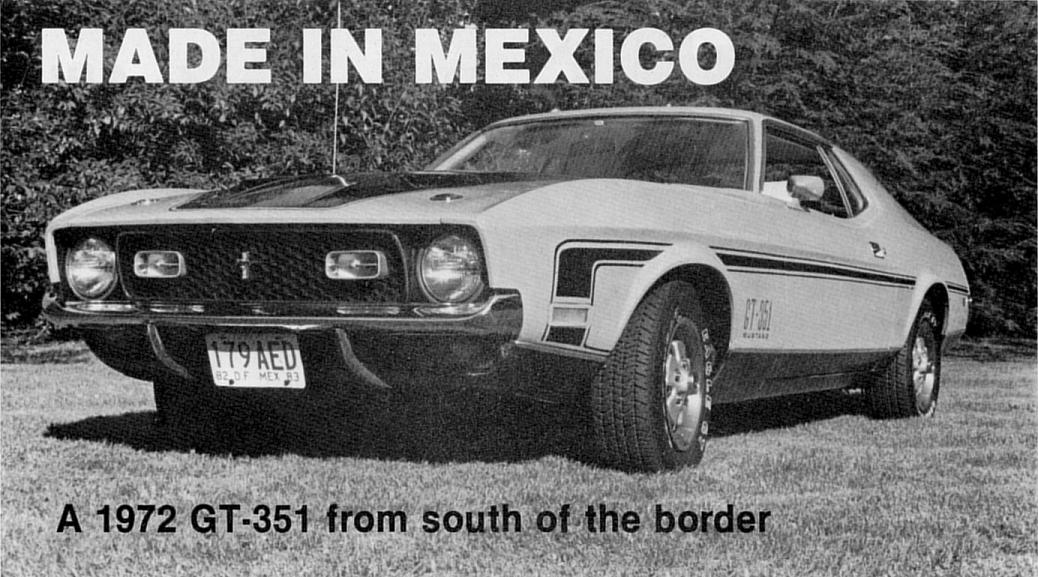 (Reprinted from the November 1983 issue of Mustang Monthly) (Photos by Richard Valenzi)
During a vacation to Mexico City last spring with his parents, sixteen-year-old Mustanger Richard Valenzi, a member of the Long Island Mustang Owner's Club in New York, spotted an unusual 1972 Mustang hardtop for sale at a Mexico City Auto Flea Market. A closer look revealed GT-351 decals on the front fenders, and with a quick glance under the hood Richard noticed a black and gold 351 Windsor engine instead of the American version's Ford blue Cleveland. The speedometer registered in kilometers, like the German T-5s, and the door panels differed from the U.S. Mustangs. Bingo! thought Richard, it's a Mustang made in Mexico!
Mustangs were indeed built at Ford's Mexico City assembly plant, but information about the cars is scarce at the moment. Apparently, to take advantage of American and other foreign companies that shipped parts into Mexico for assembly by inexpensive Mexican labor, Mexico enacted a law that required a certain percentage of the product's parts to be Mexican-made. Valenzi's GT-351, as well as other Mexican Mustangs, were fitted with Mexican pieces that differ from American versions.
Aware of the American interest in T-5s and not aware of any other GT-351s in the U.S., and especially New York, Richard spent most of his vacation convincing his dad to buy the car. Dad Valenzi finally gave in, bought the GT-351, and flew back to Mexico City several weeks later to drive the Mustang to its new home in Syosset, New York. Now, young Richard's got one of the few — and maybe the only — Mexican-made GT-351s in America.
Click here to find more Richard Valenzi´s 1972 GT 351 pictures.